Italian Speaking Sales Assistant - Junior
Dema Solutions d.o.o.
Rok za prijavu: 18.06.2023.
Nije potrebno radno iskustvo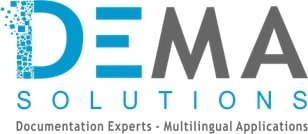 We are team of dedicated professionals with long history in localization industry and passion for innovation, new solutions and languages. We are currently looking for skilled and dedicated people who enjoy being at the forefront of technology and are interested in translation and localization careers. At Dema Solutions, we take pride in enabling our clients to succeed in their global endeavours by delivering translation, localization, and internationalization of exceptional quality. If you are passionate about solving problems in innovative ways and are excited about working in a dynamic environment, we would like to hear from you.
The successful candidate will work as part of our dynamic Sales team.
In return, the company offers full training, a competitive rate of pay and range of benefits. For further information, or to apply for this position please submit your CV in English via this website.
We have a fantastic new opportunity for an enthusiastic individual to join our expanding Sales team!
Based at our modern Branch office in Cacak, this exciting role will see you work as part of a fast-paced team, working to tight deadlines to support a global client base, including major technology, automotive, manufacturing companies and household names.
In-depth training will be provided by experienced team and departmental managers.
Working hours: Monday – Friday, 8:30am - 5pm
Sales Assistant Responsibilities:
Define and manage list of leads, prospects and clients, in accordance with the Sales Manager;
Collaborate with Italian Sales team to define price-lists and for any sales and marketing campaigns;
Develop business opportunities;
Manage all the relationships with prospects and clients, in accordance to the Sales Manager;
Prepare instructions for Project Manager for quotes' purpose;
Liaise with Project Specialists, VMs, LTs, DTPs and Cat Specialists to clarify project parameters;
Manage project finances, including budgeting and reporting;
Maintain project documentation according to the Company's rules;
Suggest improving solutions in agreement with colleagues and Company Director;
Report to the Sales Manager & Sales Director;
Follow the instructions of the Company Director during the performance of his duties and daily tasks, and all that will be required to achieve the corporate objectives.
Sales Assistant Requirements:
Essential skills
Excellent written and verbal Italian and English communication skills, other languages would be an asset (German, French, Spanish etc.)
Desirable skills
University Degree (preferably in linguistic/translation related studies)
Detail orientation with the ability to multitask
Ability to meet deadlines
Excellent problem solving and analytical skills
Independence in carrying out assigned tasks
Highly-developed computer skills (MS Office, Windows)
Experience in translation and localization project management would be a strong advantage
Adaptable and organized approach with the ability to prioritize effectively
Willingness to take responsibility and use initiative
Strong critical thinking and problem-solving skills
Meticulous eye for detail and ability to maintain high levels of quality in all work
Dedication to learning and sharing the knowledge within the team
About Dema Solutions DOO and Dema Solutions SRL:
DEMA Solutions is an innovative and fast-growing company conceived from the intuition of three colleagues with a decade of experience in the translation industry.
It's a lean organization with streamlined processes where a dynamic sales force meets a team of talented young project managers and language technology experts.
A year after its creation, it stabilized into a business that today counts 23 people.
Sharing, Learning, Improvement, Technology, Reliability and Love for languages are our main driving forces that keep us moving forward.
We are a family of committed individuals dedicated to being the world's leading enabler of global communications.